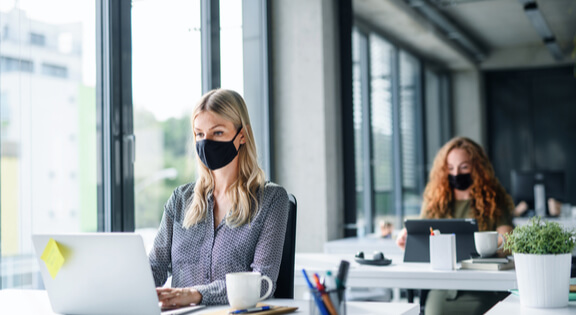 The way we use offices is changing. With so many office-based staff working at home during lockdown, we discovered it made a huge difference in terms of our work–life balance. And the crisis ensured that even companies that had previously been reluctant to consider remote or agile working practices were forced to adopt them anyway, with hugely positive feedback. It's surprising how quickly we have become acclimatised to cloud-based working, virtual meetings and only having to look smart from the shoulders up!
In fact, lockdown has resulted in somewhat of a workplace revolution, with remote and hybrid working becoming the norm. A recent survey discovered that three quarters of senior executives believe UK businesses will downsize their offices because so many of their employees will continue to work at home. It looks increasingly likely that the model of everyone being in the office together at all times is coming to an end. Indeed, 37% of decision makers are already planning a move to smaller premises with cheaper rents in the next year. 
If your company is considering such a move, then it's vital to plan how you're going to use your new office to ensure not only that you have the best space in the right location, but also that you make the most efficient use of that space for your new way of working. 
New premises and new office furniture for the post-lockdown
With the change in size and use of your office, you may need a rethink of your interior design. As the purpose of the space will be for smaller teams and meetings, your office furniture will need to reflect the changes. 
When it comes to clients, first impressions count. So, now you need fewer pieces of furniture, why not take the opportunity to buy higher quality, more attractive furniture that will make a bigger impact to your clients and employees and raise the perception of your brand among clients. 
Breakout areas that include soft seating will be inviting and comfortable places in which to conduct meetings. Bring out your brand's quirkier side by using colour and funky designs. Or, for a more professional look, choose traditional-looking furniture with wood finishes or colours such as greys and blues to give clients the reassurance they're in safe hands. 
Glass screens
To break up the new space and provide privacy without losing daylight, use glass partitions. You can create small offices or meeting areas with them, or just provide a partition between desks that will protect staff against viruses without people feeling isolated from each other. Alternatively, use the new protective screens that can be placed around your current set-up. 
Nanotech
With hygiene at the forefront of people's minds, office furniture that's simple and easy to clean is essential. Desks made from nanotechnology can be washed as frequently as you'd like, and there's no special equipment required, just use household detergent and water. The nanotech also makes the desk heat resistant and abrasion resistant, and small scratches can be 'healed' making it look as good as new again. What's more, the desks look great too!
Privacy for the environment
In a smaller office space, privacy can be a concern. But by using booths, huddle pods, acoustic furniture, screens and partitions, you can provide areas where your staff can hold informal meetings, have breaks without disturbing anyone else, or just work quietly on their own. 
The move towards remote working is not only giving your staff more options and control over their work–life balance, it is also a great excuse to rebrand your permanent office space to make it work harder, look better, and delight staff and clients alike.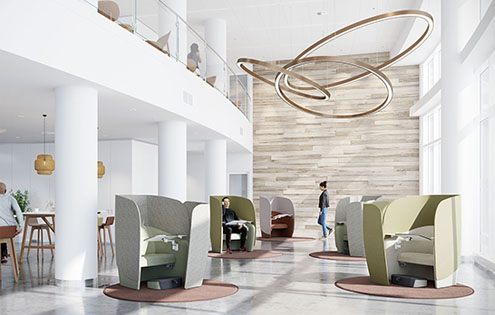 https://quillsinteriors.co.uk/wp-content/uploads/2020/10/office-furniture-post-lockdown.jpg
315
576
Justine Perry
https://quillsinteriors.co.uk/wp-content/uploads/2021/02/quills_interiors_logo_PNG-removebg-preview.png
Justine Perry
2020-10-02 14:33:00
2021-02-15 15:24:41
Office furniture for the new post-lockdown workspace