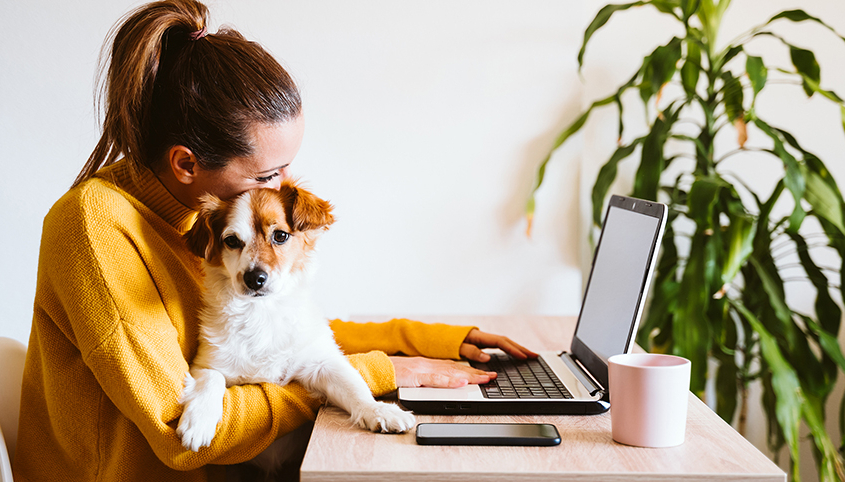 2020 was the year we discovered that working from home is more than just a possibility, so having a comfortable home desk is a must! In its latest guidelines (at time of posting), the government advised that, wherever possible, we should plan to work from home.
It is looking more and more likely that in the post-pandemic future, that there will be a move towards hybrid working, with people working in the office for part of the week and from home for the rest of the week. One researcher from Stanford University suggests optimal productivity can be achieved if staff: "plan to work from home about 1 to 3 days a week. It'll ease the stress of commuting, allow for employees to use their at-home days for quiet, thoughtful work, and let them use their in-office days for meetings and collaborations".
Do you have the right type of home desk?
With more of us spending time working from home, the kitchen table is losing its appeal as a desk. Not only is a domestic table not fit for purpose in terms of ergonomics, it can also be very disruptive to family life and means work can take over. However, unless you're fortunate enough to have a large home, standard sized office furniture is too big and, let's face it, too 'officey' to blend in.
Office furniture designers have been busy coming up with new concepts for home desk which is smaller, more discreet, and more in-keeping with our homes. Styles with steel frames are especially popular with home workers, plus with the designs incorporating shelving, they're as useful as they are attractive.
Should I consider a sit-stand desk?
One of the biggest trends in office furniture in the past few years has been the sit-stand desk, which gives you the capability of being able to choose whether you sit or stand as you work. Sitting all day is bad for us, but then again, so is standing all day. A sit stand desk is a great compromise, allowing you to adjust the height of your desk at the touch of a button in order to take advantage of the health benefits of being able to alternate stances and improve your posture. Research has shown that staff with sit-stand desks are more likely to be productive, at the same time as being less likely to need time off for musculoskeletal problems.
Sit stand desks are an investment in your health as well as your productivity. The smallest, at 1200 x 800 mm, is the perfect size for your home office, and at a massive 45% off the recommended retail price, there are even more reasons to look after yourself or your staff while they're working from home.
https://quillsinteriors.co.uk/wp-content/uploads/2020/12/Home-Office-Desk-Blog-2.jpg
200
325
Justine Perry
https://quillsinteriors.co.uk/wp-content/uploads/2021/02/quills_interiors_logo_PNG-removebg-preview.png
Justine Perry
2020-12-21 14:10:48
2021-02-02 14:04:44
Home office desks