Are you working in

comfort?

privacy?

peace and quiet?

a productive environment?
15
minutes
is how long it takes to recover from an unwanted noise interruption
75
% of people
said that noise in the workplace was a significant concern. However . . .
only
30
%
are satisfied with noise levels in their workplace!
&
50
%
have difficulty working quickly and concentrating in a noisy
environment!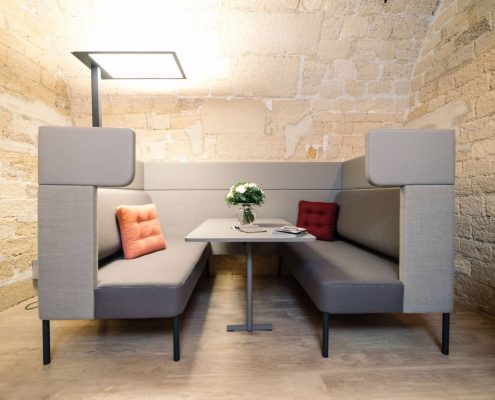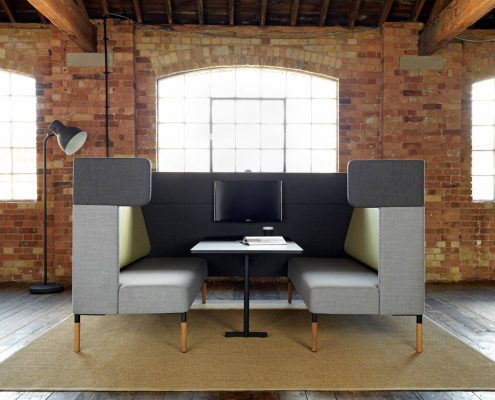 FourUs
Accoustic soft seating gives you the opportunities to give your space meaning.  In co-operation with award winning designer Anders Nørgaard, we have created the visionary zoning concept FourUs®. With their minimalistic design inspired by Danish 50's classics, the FourUs® sofas are modern and pleasing to the eye. We also considered your comfort and designed the sofa with an extra-supportive cushion to take great care of your back.
The FourUs® family features several modules and countless options when it comes to colour and choice of fabric, thus giving you the possibility to personalise your new sofa. With FourUs® you get a room with better acoustic, aesthetic design and diversity – you get a room with opportunities!
HenRay
HenRay is a sharp and stylish range of soft seating. High back units offer comfort and privacy and their versatile design compliments a large range of low back seating, benches and tables. However, the range also includes curved modules and booths to create large landscape configurations ideal for meeting and public spaces.
Features
Designed by Henry Gurney
30 straight and curved modular high and low back units
Fully webbed seat
HenRay Booth options for Two, Four and Six people
Modular units can create large landscapes or small informal meeting areas
Available in fabric and vinyl, with two-tone options
Aluminium or white or black powder coated legs
Square scatter cushions and bolsters available
Two and three seater booth options
Booth table units with leg and top options
TV bracket and specific power and data options available
Range includes complementary low back straight and curved options
Power and audio visual options