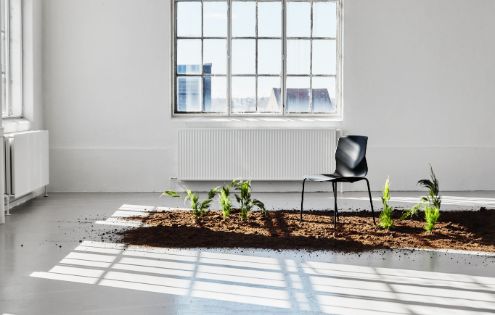 What does sustainable furniture really mean?
What does sustainable furniture really mean?
Sustainable furniture is based on the closed-loop cycle of recycling. The goal of sustainable furniture companies is to produce furniture that lasts and can be used throughout a lifetime (or two!). Indeed, some suppliers are already thinking about how they can re-use all the Perspex screens that have been produced to protect employees during the Covid pandemic.
Customers want to purchase more sustainably, incorporating brands that offer furniture with recycled materials. We are delighted to see that manufacturers are now beginning to hold their furniture suppliers accountable, ensuring they provide evidence and data that their products are made from sustainable, ethically sourced materials.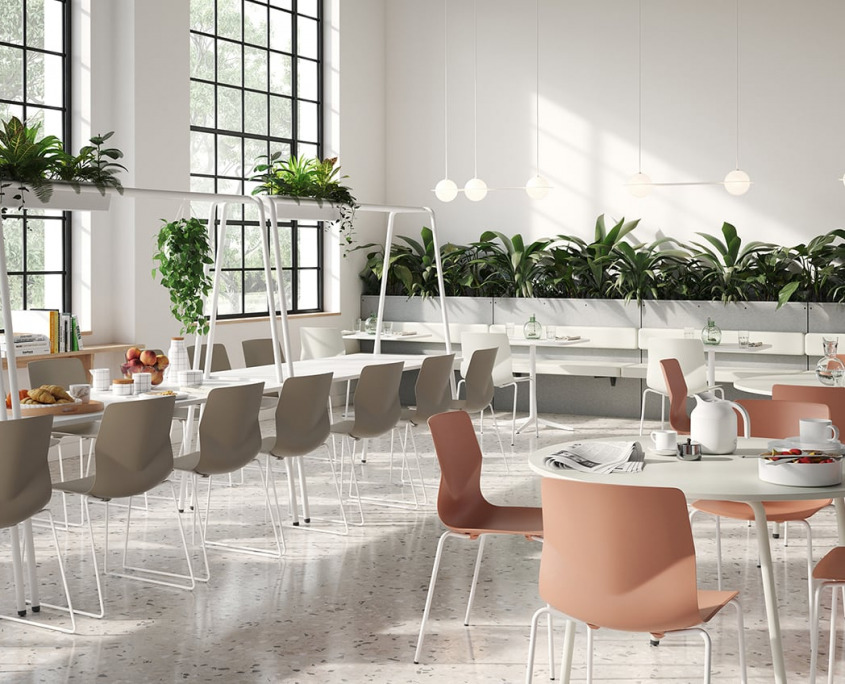 What type of recycled plastic is used in furniture?
There are two types of recycled plastic, post-consumer and post-process (also known as post-industrial). When we talk about recycled plastics, most people think this means post-consumer (e.g. a plastic bottle that has been recycled into something new). However, more often than not the 'recycled' plastic that is in your product is post-process plastic, meaning that it's the plastic that would have gone to waste in the moulding factory but is instead put back into the moulding process.
The good news is that 78% of the UK's post-consumer plastic is now recovered. However, the overall figure of plastic that is recycled is still low, at only 32%, so the more demand for recycled plastic there is, the more that figure is likely to rise.
The great thing about using post-consumer plastic in furniture is that it essentially 'closes the loop', preventing old plastic products from ending up in landfill or floating in our oceans, and instead allows them to be remade into something completely new. The idea of 'cradle to cradle' design has been around since the 1970s, and calls for the next life of a product to be designed as part of its existing one. It's only with design policies like these, as well as the use of sustainably grown and sourced materials – such as FSC certified wood, that all office furniture can be sustainable.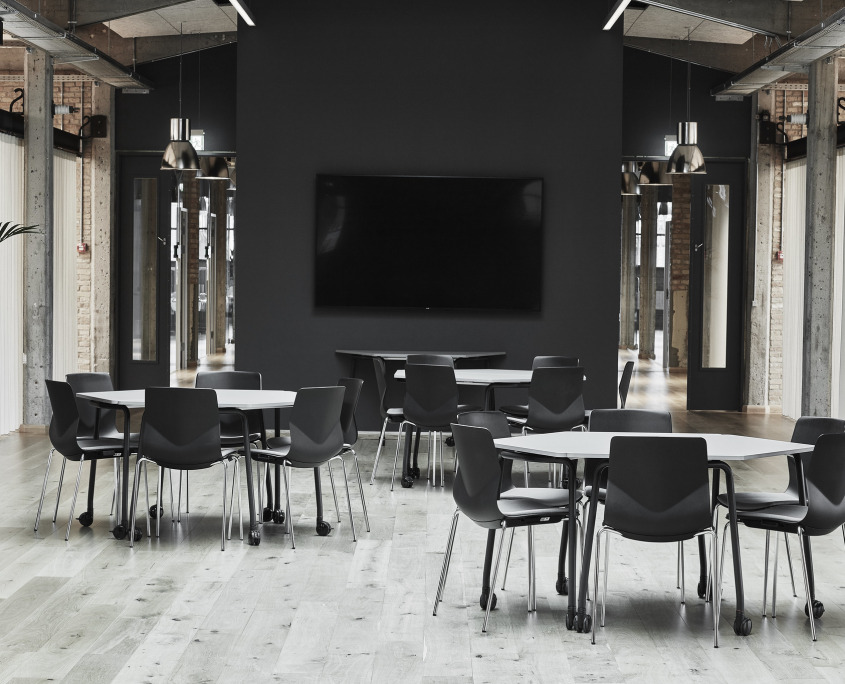 What is the EU Eco Label?
Recognised worldwide, the EU Ecolabel has a set list of criteria that ensures products do not harm people or the environment. The certification covers all elements of the product's life cycle in order to promote the circular economy and encourage companies to develop products that are easy to repair and easy to recycle. One of our lovely manufacturer partners Ocee Design has produced an EU Ecolabel-certified chair which comes in a variety of styles including breakout, reception and a high stool. Each chair has just six components including a 50% recycled plastic shell, a recycled steel frame and six rubber locks. The chairs can be easily disassembled and repaired, as well as recycled at end-of-life. These chairs have been designed, built and tested to last 50 years, showing the quality and longevity of the design. If you'd like to learn more do get in touch.
What to do with your old furniture
Make sure when you plan to purchase new furniture that you also have a plan for what to do with your old pre-loved furniture. Most suppliers will be able to recommend a recycling or resuse partner who will take away your used furniture. Alternatively, local charities or schools may be able to use some of your pre-loved furniture.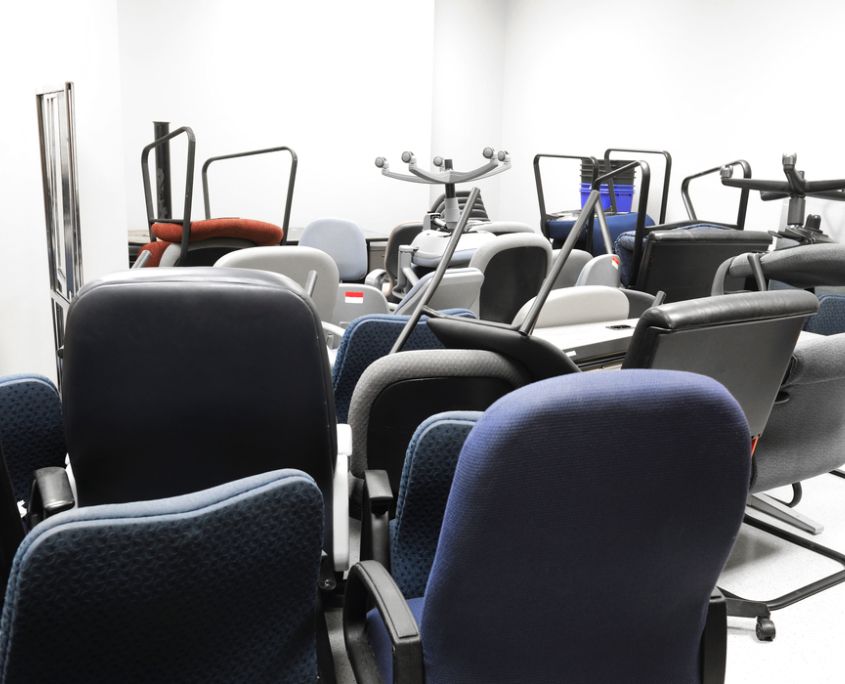 What are End-of-Life Take Back Schemes?
Some suppliers have an end-of-life take back scheme so don't forget to ask about this option as part of your planning stages when you're looking to buy new office furniture.
Sian Berkley, Group Sustainability & Environmental Manager at Ocee Design ran through their Take Back Scheme with Quills to explain how it works. The scheme aims to reduce your environmental footprint by providing the services to collect furniture at its 'end-of-life' and to either find a suitable place for a second life, or to break down the product into its components, recycle the materials and divert the products from going to landfill.
Three R's are considered within the process which are…
Re-use
Furniture suitable for re-use (main priority) is directly donated to charities, schools and community groups or put on an online portal for schools and colleges, community groups, charities and NGOs to apply for – there are over 1160 different members on this site.
Re-work
Products will be upcycled and reused.
Recycle
Products that have really reached their end-of-life will be split into components and recycled (typically 97% of all items are recycled).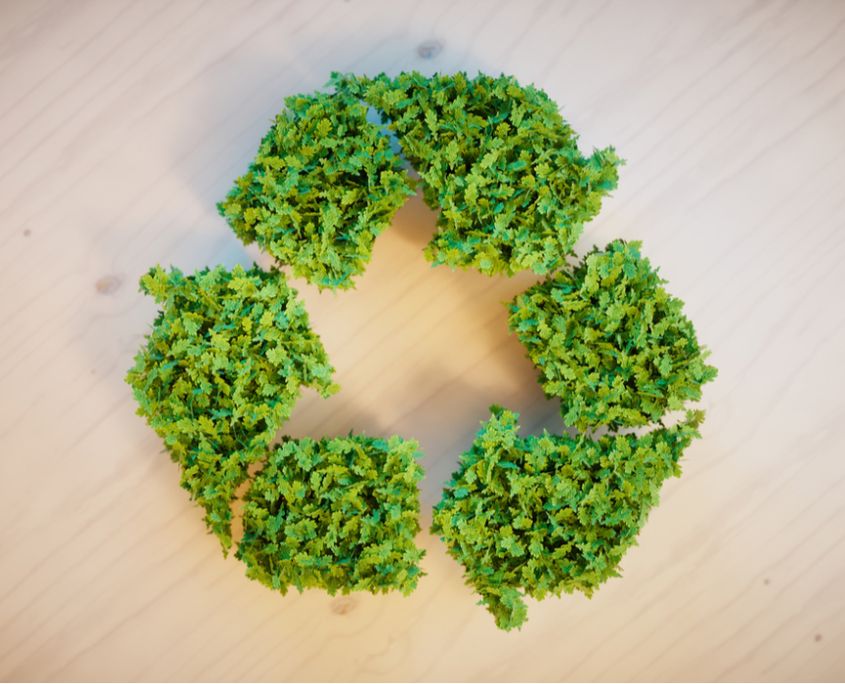 You will be asked to complete a quick form outlining the type and quantity of furniture that you wish to have collected and an initial quote is produced (based on what service providers think can be re-used or recycled + labour costs + handling costs). A date will be set for a collection, your invoice will be settled and a report provided outlining the weight in tonnes diverted from landfill, the equivalent in £'s saved, equivalent CO2 savings and the equivalent number of homes the CO2 would power with those savings for a whole year would all be in the report. You would also be advised which charities or schools etc have benefited from the items donated via the Take Back Scheme, receiving photos and testimonials where possible.
We absolutely love that many manufacturers, like Ocee Design, have a clear sustainability plan and have incorporated this type of scheme to help reduce the impact of the furniture industry and reduce waste ending up in landfill.
Repair rather than replace
There is always a time when your furniture items will need to be replaced whether it's because they are tired, damaged or are not the right fit style wise. If you would like to repair your furniture, trained technicians can repair scratches and chips in your wood, MDF, plastic, glass or metal to extend the lifetime of the item.
Non-Toxic Chemicals
Water-based glues and lacquers are a green alternative to solvent-based finishes and contribute to product's sustainable credentials. Solvent-based lacquers can cause harm to humans and the environment through off-gassing or emitting volatile organic compounds (VOCs). It is therefore something that's important to look out for within the safety data sheets. Manufacturers are legally obliged to provide customers with information on REACH chemicals included in products. Material safety datasheets may show that chemicals in-use have potential to harm human health, but once they are in a solid state, the risk diminishes.
Some manufacturers will provide full product VOC certificates to ensure no harm of chemical off-gassing to customers.
Closing the loop
If you would like to incorporate recycled furniture or a Take Back Scheme into your next furniture project, then please don't hesitate to get in touch!
https://quillsinteriors.co.uk/wp-content/uploads/2022/01/thumbnail.jpg
315
495
Karla Powlesland
https://quillsinteriors.co.uk/wp-content/uploads/2022/01/Quills-Interiors-White-OUTLINED-250-website.png
Karla Powlesland
2022-01-17 16:25:55
2022-04-01 15:37:56
What does sustainable furniture really mean?