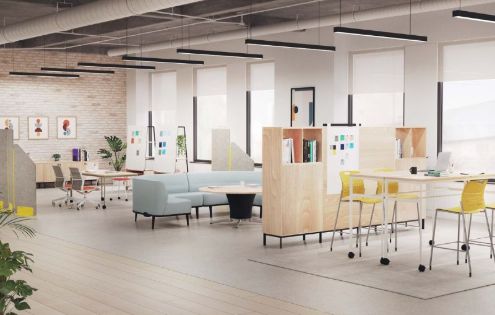 University furniture that will appeal to everyone
There's no 'one size fits all' solution when it comes to university furniture. All universities and colleges need a diverse range of furniture for a multitude of purposes, whether it's study space furniture, classroom furniture, common room furniture or library furniture. As educational furniture suppliers, we understand your needs and will be happy to advise you on the best furniture for each situation.
Educational furniture needs to fulfil a number of criteria to take account of your university's image, your budget and the students themselves. It therefore must be:
attractive and appealing
comfortable
practical
good for posture
hard wearing and long lasting
Study rooms design ideas
Study room furniture has changed quite radically over the past few years, and study rooms can incorporate many different items of furniture in the same space. It's good to give your students the choice of whether they want to work sitting at a table with others, have a desk on their own in a more private area, or be more relaxed on comfortable soft seating or bean bags. There is a wide range of furniture available – tables, desks, ergonomic chairs, partitions, soft seating and acoustic seating, all of which can help create a comfortable and productive study space for your students.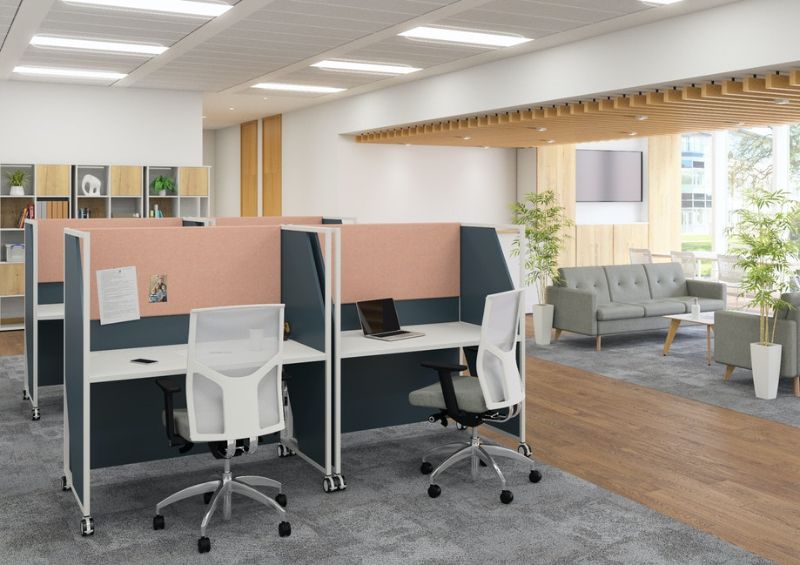 Student common rooms furniture
Everyone needs an area where they chill out and take a break, so whether you're furnishing a staff common room or a breakout area / room for your students, you can create attractive and comfortable surroundings for everyone to relax in. Use different coloured sofas and armchairs to create a friendly atmosphere, alongside breakout furniture such as huddle pods where informal meetings and chats can take place with a greater degree of privacy. The use of colourful lockers will cheer up any common room at the same time as providing a practical place for valuables to be kept. Some lockers can even be fitted with USB charging points so students and staff can safely charge their mobile devices.
Teaching rooms and educational furniture
Desks and chairs are the staple of teaching rooms and lecture rooms in every educational institution, including universities and colleges. Educational furniture has come a long way since the days of rows of wooden tables and uncomfortable chairs. Quills Interiors supply ergonomic classroom chairs that are practical and durable – and also come in a range of colours ensuring they will look great in any teaching room. Modern desks come in a variety of shapes and sizes, making it easy to set out your teaching room in any configuration.
Library furniture design
Why not renovate your library and make the most of the space with modern library furniture. The use of partitioning and pods will create comfortable and quiet areas for students to work in. Many desks come with built-in power points enabling students to plug in their laptops without trailing wires everywhere – which is not only unsightly but it could also be very dangerous too. These desks will also allow you to design the most effective layout rather than having to crowd furniture around plug points in the walls.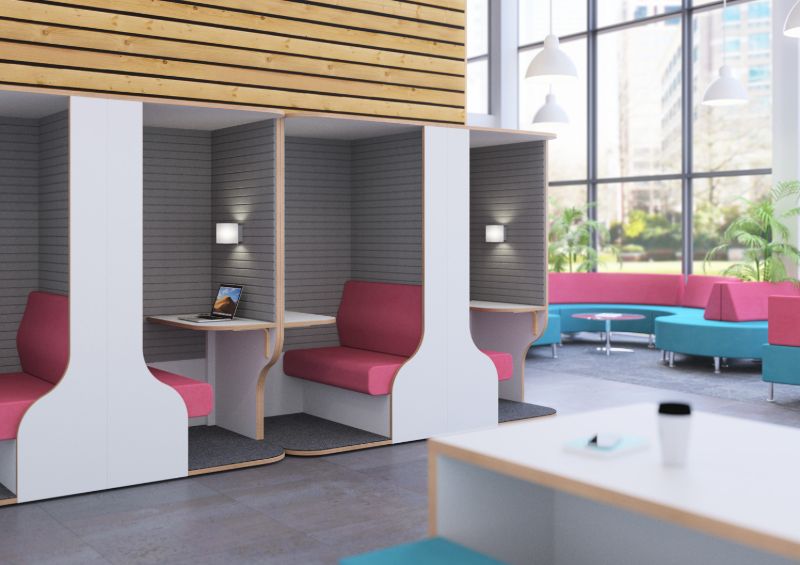 Canteen furniture suppliers
Create a nice environment for staff and students to eat in with imaginative use of colourful canteen furniture. Combine high tables and stools with low tables and chairs or benches to break up the room and make it visually interesting. Create booths with the use of partitions, and maybe add sofas, armchairs and coffee tables for students looking for a hot drink after their lectures.
Protective screens and antibacterial coatings
The pandemic isn't over, and even when it is, we're now all very aware of how easy it is to transmit colds and viruses – which are good enough reasons to continue to provide protective screens throughout your university to offer reassurance and keep everyone safe. You can also use antibacterial surface coating to reduce the transmission of bacteria and viruses on touch points. This clear coating kills bacteria and viruses 24/7, and it lasts up to 12 months on high traffic surfaces and much longer on other surfaces in areas that aren't touched frequently.
If you're looking for a university furniture supplier, look no further! Contact us to discuss your project design ideas and budget and we will come up with a solution for you!
https://quillsinteriors.co.uk/wp-content/uploads/2021/11/Student-page-Image-1-1.jpg
315
495
Justine Perry
https://quillsinteriors.co.uk/wp-content/uploads/2022/01/Quills-Interiors-White-OUTLINED-250-website.png
Justine Perry
2021-11-01 12:21:41
2021-11-17 16:49:29
University furniture that will appeal to everyone