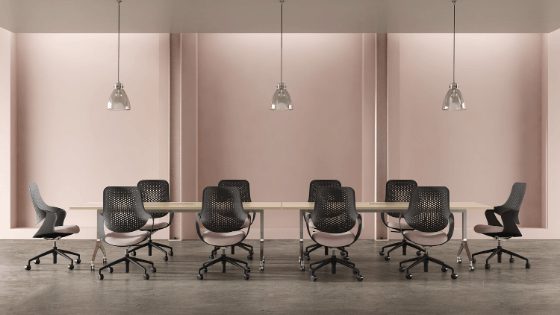 Let's face it, technology makes us slouch! Whether we're hunched over our phones and tablets on the train or the sofa, or hunched over our keyboards at work, we've become a round-shouldered nation. We all know that poor posture is bad for us, but need a bit of encouragement to sit properly. 
The latest figures from the Health & Safety Executive show that, in the UK, there are around 2.2 million working days lost every year because of back disorders. And the latest UK Chief Medical Officers' Physical Activity Guidelines are clear that: "Periods of inactivity or sedentary behaviour are an independent risk factor for poor health outcomes and should be minimised where possible."
What we probably fail to appreciate is that back pain caused by poor posture is the result of an accumulative effect, with continued stress leading to problems with muscles, discs, joints and nerves. This is why it's so important to provide ergonomic seating for your staff and encourage them to take care of their posture, which in turn will improve their musculoskeletal health, leading to fewer problems and reduced absenteeism. 
Slouching does more than just look bad 
At work, we tend to sit forward over our keyboards which makes us strain our necks in order to look at the screen. And that's why so many of us experience aches and pains in our necks and shoulders, and the consequent changes in the spine can cause back pain through constriction of blood vessels, nerves, muscles, discs and joints. 
And it's a vicious circle as the slouching posture weakens our body's core muscles which in turn weakens the standing posture, making things even worse.  
Ergonomic chairs have been specifically designed to support natural posture and give good lumbar and pelvic support. They are fully adjustable so individuals of all heights can customise them to suit their specific needs, and we all get to sit comfortably and well. 
NHS guidance is that the best way to sit is so that the computer screen is at eye level and the back is fully supported. Ideally, legs should be at a 90o angle and feet should be flat on the floor – if this is not the case (i.e. if you're short), then a footrest is essential. Arms need to be in an L shape with elbows resting by the side. 
With the correct support for backs and arms, you and your employees are far less likely to suffer from bad backs and other problems associated with poor posture. With the resulting increase in productivity, your investment will not only pay for itself in monetary terms, but it will also result in a healthier, more motivated workforce. 
Interested in the range of ergonomic furniture we offer? Contact our friendly team to find out more.
https://quillsinteriors.co.uk/wp-content/uploads/2019/10/Untitled-design-2019-10-24T144510.754.jpg
315
560
Justine Perry
https://quillsinteriors.co.uk/wp-content/uploads/2019/10/Quills-White-Reverse-300-wide-300x74.png
Justine Perry
2019-10-24 13:46:15
2020-03-13 15:41:20
Ergonomic seating and the importance of good posture