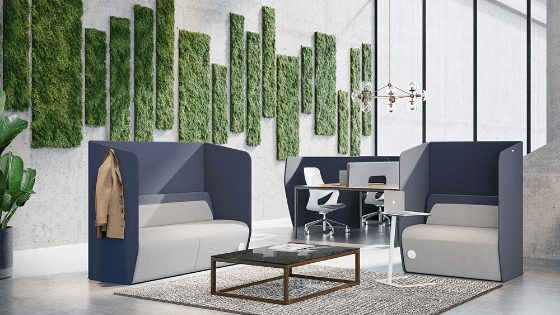 Noise and lack of privacy are common problems in open-plan offices, especially for the introverts on your team. Yet despite this, the open plan office remains the most popular workplace design. In this article we'll walk you through three different solutions for flexible meeting spaces using accoustic furniture, meeting booths and pods.
In a major study of 1,200 executives, global forecasting and analytics company Oxford Economics concluded that the noise and distractions of open-plan offices are the cause of endemic frustration for employees. And the negative effects didn't just last for the time people are in the office spilling over into evenings, weekends and even holidays.
The majority of workers said the ability to focus and work uninterrupted was a top priority for them, and they also wanted spaces where they can collaborate easily and effectively with colleagues.
When it came to office design, however, the study revealed that the effects of noise are not treated as a priority, meaning employees have to find ways to deal with ambient noise and lack of privacy, and they'll end up listening to music on headphones or trying to find quieter areas where they're more likely to be able to work uninterrupted.
Acoustic furniture, meeting booths and pods are specifically designed to tackle the problems of noise and lack of privacy. Acoustic furniture is designed to mask outside noise, whereas meeting booths and pods are designed to keep conversations confidential and also come with the added benefit of tables, TV screens, power sockets, charging points and pods also have doors!
Acoustic Furniture
Acoustic furniture works by absorbing sounds thanks to a mixture of fibre or foam covered in woven fabric. This is in contrast to hard surfaces such as metal, plastic, glass and wood, which will cause noise to reverberate and bounce back into the room.
The National Institute of Building Services recommends the use of sound-absorbing furniture and screens with a minimum height of 60 inches that has sound-absorbing surfaces on both sides. This includes modular seating, high-backed furniture, wall panels and ceiling-hung panels that will help your staff concentrate on their tasks and improve their productivity.
The more popular acoustic furniture becomes, the greater the variety available, meaning you can get styles that suit your brand, whether you want professional and discreet or loud and funky!
Meeting booths
Meeting booths, on the other hand, are seating pods surrounded by soft panels that work in the same way as acoustic furniture. However, their main use is to provide staff with more private areas where a conversation or phone call won't be overheard by everyone in the room. You can also have add ons fitted, including tables, audio visual media and a power supply.
Meeting booths are important because open-plan working actually results in people communicating less, not more. It sounds counter intuitive, but in some cases, there was a 70% drop in face-to-face conversation as staff prefer to communicate online via email or messenger apps in order to 'talk' more freely without being overheard.
With the addition of meeting booths in the office, your staff will feel far less self-conscious about communicating with each other, and they can hold informal meetings without feeling others are listening in to their conversation, and without the guilt of potentially distracting colleagues who are trying to get on with their work.
So, although acoustic furniture and meeting booths serve different purposes, they are both essential elements of open-plan working in terms of productivity, motivation and staff well-being.
Pods
Pods are enclosed booths that give people more privacy, whether it's as small as a phone booth style pod which allow people to make calls, a single working pod that's large enough to house just one desk for someone wanting to concentrate on a task, or meeting room pods.
Pods come with a range of options including glass panels and doors, air con, audio visual media units, attachable tables.
They can be constructed in different shapes, sizes and colours to fit into the space you have available. Whether it's a cube style for one or a circular pod for 6 or more, pods will improve privacy, motivation and productivity. Unlike traditional partitioned meeting rooms, a pod can also be disassembled and moved to another floor or new premises.
Interested in the range of acoustic furniture we offer? Contact our friendly team to find out more.
https://quillsinteriors.co.uk/wp-content/uploads/2019/10/Untitled-design-2019-10-24T144523.393.jpg
315
560
Justine Perry
https://quillsinteriors.co.uk/wp-content/uploads/2019/10/Quills-White-Reverse-300-wide-300x74.png
Justine Perry
2019-10-24 13:50:50
2020-03-13 15:41:20
Create versatile meeting spaces with accoustic furniture, meeting booths and pods