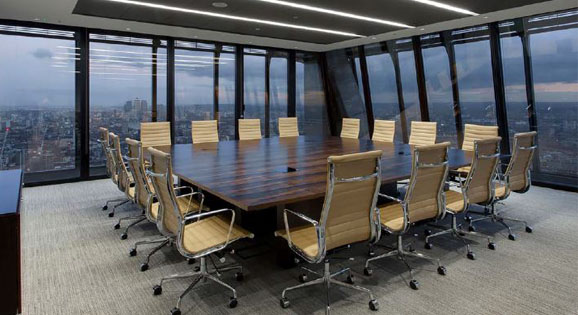 Your boardroom table is an important part of your office furniture. When clients visit your office, you will probably hold the meeting in your boardroom, so first impressions really do count!  
When it comes to boardrooms that you see in films and TV programmes, most things are exaggerated for effect, but that means they give a great insight into the way a table reflects the impression of the business and the company ethos. Here are a few examples: 
The Apprentice UK
The most famous boardroom table is the one the BBC's Apprentice candidates sit round when they're being grilled about their latest tasks. There is nothing on the table except water glasses and sometimes Lord Sugar's notes, meaning that all the candidates have to rely on is their wits when defending their actions. In addition, the boardroom table is huge, distancing the candidates from Lord Sugar and his advisers with a physical barrier, making him an even more imposing figure. He also sits on a larger chair than even his advisers, which reflects his importance further. Whilst this may not be very helpful in the creation of relationships between the boss and his potential apprentice, it emphasises hierarchy and increases tension in order to make great TV! 
The Office US
Following the incredible success of Ricky Gervais's The Office in the UK, the Americans created their own version set in the fictitious company of Dunder Mifflin. Some of the scenes were set around a cramped meeting room. The table was very small and had the appearance of lower-priced self-assembly furniture, with a light wood-effect veneer and tubular metal legs. It doesn't give the impression of a strong company with solid foundations, rather one that just looks after basic needs and expects things, and by implication its people, to be easily replaced. 
Merlin
It was inevitable that King Arthur's famous round table would make an occasional appearance in the TV series about the relationship between the wizard Merlin and King Arthur. Set makers built a solid wood table carved with inscriptions of Old English words to reflect Arthur's strength and inclusiveness. The round table was a deliberate choice of King Arthur who wanted to promote a feeling of teamwork and equality, meaning none of his barons could claim precedence over each other because of where they were sitting. A completely different dynamic to that was promoted in the Apprentice boardroom.
Suits
Famous for one of its actors running away to England to marry a prince, Suits is a drama set in a top Manhattan law firm. The success of the firm meant the main characters all had big, impressive offices which were virtually large enough to house conference tables the size of most real-life company's boardroom tables!  The Suits boardroom table was huge, wooden with a gold inlay and surrounded by sophisticated mesh back executive chairs, creating the impression of understated elegance. 
50 Shades of Grey
Grey Enterprises impressive boardroom with floor to ceiling windows created the perfect setting for Christian Grey's office.  Although we didn't see a lot of action in the boardroom (of a business nature), the boardroom table was modern and chic, with a thick glass surface which provided a sense of solidity and strength, and where powerful decisions were made.
Mad Men
The iconic TV series about the advertising industry in the 1960s was set largely in the office. While the boardroom and meeting room furniture had to reflect the furniture of the day, it had a surprisingly modern feel about it. A large wooden boardroom table sat in a spacious room which gave the impression of a solid, dependable company. The executive chairs that surrounded the boardroom table were large and comfortable, making participants feel looked after, as well as helping them feel more at ease – which is important when it comes to encouraging creative ideas. 
The UK Cabinet 
We often see PR photos of the Cabinet sitting around a table ready to begin their meetings. Even though the boardroom table is enormous, it needs to accommodate a lot of people which means individual space is always restricted, but it gives the impression that they will be working closely together. In photo opportunities, the Cabinet table is usually covered in protective green cloth, and everyone has place names, pens and folders. It projects an image of gravitas which makes us believe they are about to hold a meeting where everyone is determined to work hard – after all, the decisions they make affect us all and we want to see our leaders taking their responsibilities seriously. 
https://quillsinteriors.co.uk/wp-content/uploads/2019/09/Board-Room-Table-8-Quills-Interiors.jpg
315
578
Justine Perry
https://quillsinteriors.co.uk/wp-content/uploads/2019/10/Quills-White-Reverse-300-wide-300x74.png
Justine Perry
2020-02-07 13:14:38
2020-02-07 14:06:52
TV's most famous boardroom tables