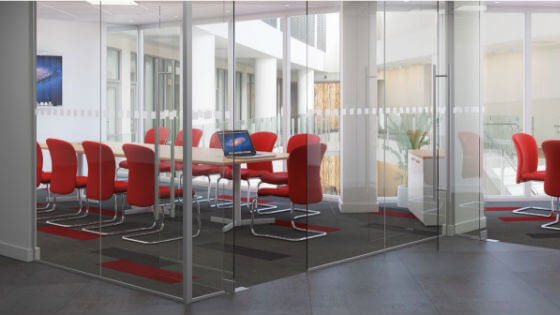 Who knew there'd be a trend for conference tables, but the changing trends in work practices are having a knock-on effect in office furniture, and this includes conference tables. 
Integrated technology
Conferencing technology is getting more and more sophisticated. More companies are installing video conferencing facilities in their meeting rooms, as it allows them to organise face-to-face meetings without the need to spend lots of time travelling. AV facilities generally include digital screens, microphones and speakers, and sometimes have the addition of projectors and projector screens.
It is also now an accepted part of meetings for all those attending to bring their own devices (BYOD) to connect via WiFi, e.g. laptops, tablets or phones so they can take notes, project PowerPoint presentations, or do some research during the meeting. The more devices there are in the conference room, the more likely it is that at least one participant will need to plug something in. And from this, chaos can follow! With a conference table that is merely a table, the likelihood is that, as people need to charge their devices, and sometimes connect them to your AV equipment, the room will quickly become full of cables, and this can end in an untidy mess of wires trailing all over the place and causing trip hazards on the floor. 
That's why there is a growing trend for conference tables that have integrated power sockets and control panels. If someone needs to plug in their device, they can keep the wires out of the way on the table top in order to minimise disruption. With an integrated AV system, your conference table can include space for a central control panel, which all devices can link with, and from where one person can easily control everything with minimal training. 
Having a conference table with integrated power points and panels means that you can easily, and tidily, cope with all your technology and attendee needs. 
Flexible room uses 
With space at a premium, companies need a flexible solution to help them cope with the need for different sized meeting spaces and the need to keep costs as low as possible. Many are opting for using removable wall dividers in larger spaces which gives them the option of having either one large conference room, or two or three smaller meeting rooms, depending on what's needed at any one time.
The current trends in conference tables reflects this change in room use, with modular tables becoming more popular. They can be fitted together to fill a large space, or broken apart to be used in smaller groups, which gives companies the flexibility they need to organise meetings efficiently, but without wasting space. They can also be easily stored and relocated as many come on wheels. 
Modular conference tables can also be used in different formations to create a more interesting design for the main conference that's appropriate for the type of meeting being held – using horseshoe, oval, circle or even octagonal shapes. 
https://quillsinteriors.co.uk/wp-content/uploads/2020/02/conference-table-trends-2020.jpg
315
560
Justine Perry
https://quillsinteriors.co.uk/wp-content/uploads/2019/10/Quills-White-Reverse-300-wide-300x74.png
Justine Perry
2020-02-10 09:15:24
2020-02-10 09:55:29
Latest conference table trends for 2020