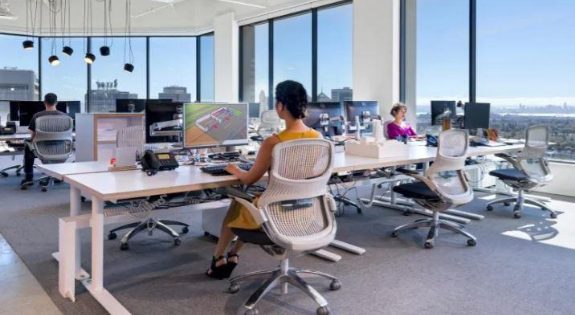 The government is urging employees where possible to return to working in Covid safe environments.  With more employees currently working from home than ever before, it's time for businesses to seriously consider how their new office design will look to comply with new H&S measures. Jes Staley, CEO at Barclays said: "I think the notion of putting 7,000 people in a building may be a thing of the past and we will find ways to operate with more distancing over a much longer period of time". This involves a huge amount of planning, time and organisation as the typical office layout, which encouraged individuals to work together, is no longer enough to keep staff protected. 
In this blog, we are going to explore some of the key ways to plan your space management whilst incorporating Covid-19 safety measure to help to keep your employees and visitors safe.
Review Floor Plans & Furniture Arrangements 
Bench desk arrangements, seating plans, breakout and conference and meeting areas are all aspects of the workplace which will need to be re-planned. Employees need to feel comfortable when they're back at work so it's important to ensure that individuals are distant from each other but still have the ability to communicate and engage with one another. Think about where more space can be utilised and don't be scared to be creative with space planning such as widening corridors, removing unused furniture and utilising outdoor space if available.
Protective Screens and Sneeze Guards are an ideal solution for putting a protective barrier between your employees and are suitable for all environments including doctor surgeries, hospitals, schools, reception areas, hotels, offices and retail environments. There is a huge selection of protective screens available ranging from stable, stand-alone screens to screens that can be fixed to a surface and also floor-standing and pull up screens which can be repositioned as necessary. 
High traffic areas need more attention
For extra protection, you could also consider implementing antibacterial door handle covers or for larger sites antimicrobial surface coatings The handle cover solutions simply clip onto your pull, push or lever style handles and are self-cleaning.  The silver ion technology kills bacteria on contact and they last 6-12 months.  For larger areas, you can consider an antimicrobial surface coating which can be applied to many areas including handles, tables, gym equipment, lift buttons and many other high traffic areas within your premises.  These solutions help protect your key touchpoint areas and avoid cross-contamination from one individual to another. 
Utilise Smart Technology 
Technology is improving every day and it's important that businesses make the most of smart technology so that they can continue to move forward and be more efficient. Equip your employees, and in particular, your remote workers, with video conference software, SharePoint systems and this means that interaction can still continue, employees are contributing online and this can help keep motivations levels up as you continue to feel part of the team without having to physically be in the office.
It's also more important than ever to know who is coming in and out of your building not just for Covid-19 safety but for fire and H&S reasons too. Suitable for all environments, visitor management systems securely monitor who is visiting, how long they are in your premises for, when they leave, who they are meeting and contact details which aer required to assist with track and trace and much more – take a look here for more info. 
Hygiene Stations – Stay Clean
Whilst we may be preparing for our workforce to return, this global pandemic isn't over yet. It's still essential for employees to stay clean and hygienic throughout the day. Introduce hygiene and sanitising stations around the building so that it is easy and convenient for employees to wash their hands, use hand gel and wipe the workstation down at the end of the day. You should also consider using floor and wall stickers, posters, hazard tape or barriers to help encourage employees to follow social distancing measures. 
Deep Cleaning Services
Carrying out risk assessments is another essential part of preparing to re-open for business. Government guidelines have asked businesses to "clean more frequently and pay close attention to high-contact objects like door handles and keyboards. It is also recommended that commercial premises carry out a deep clean at least twice a year in order to improve indoor air quality and reduce the presence of dust, bacteria and fungi". 
Conducting a deep clean and disinfecting all surfaces not only provides a safer working environment for your employees but also reduces the risk of spreading Covid-19 or other air-bourne diseases. Head over to Quills Interiors Commercial Deep Cleaning services for more information. 
Where do I begin?
If your business is preparing to re-open and needs assistance or support with space planning solutions, we have a range of design experts on hand who can assist with:
Maximising space 

Floor Plans & CAD Drawings

Site Safety & Security 

Ventilation & Airflow

Sanitising Areas

Protective Screens & Signage

Introduce more Waste Management Facilities

Antimicrobial Surface Coating & Deep Cleaning Services
Get in touch for more information or a free consultation at hello@quillsuk.co.uk.
https://quillsinteriors.co.uk/wp-content/uploads/2020/07/SPACE-MANAGEMENT-BLOG.jpg
315
575
Demi Newlands
https://quillsinteriors.co.uk/wp-content/uploads/2019/10/Quills-White-Reverse-300-wide-300x74.png
Demi Newlands
2020-07-28 10:16:57
2020-07-28 10:21:31
Managing workplace design following Covid-19