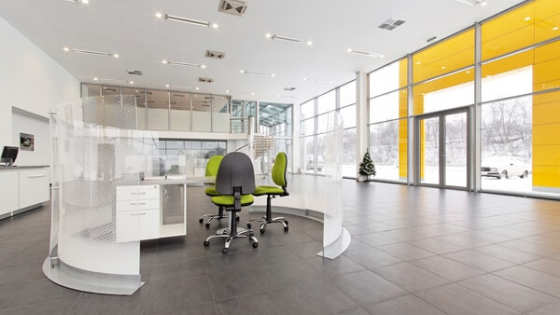 With the right meeting room furniture, you can make the most of your space, whatever the size of your room.
Small rooms and meeting pods
Office space is always at a premium, and if you don't have large premises, purely on practical grounds it's likely that your meeting room will have to be one of the smallest rooms or partitioned spaces. But a meeting room doesn't have to be a big rectangular table surrounded by chairs. Try an oval-shaped table to give a smaller room a feeling of more space, or, for a square space, choose a circular table. Both will also make the room look more interesting and help make people feel less 'squeezed in'. You could also put corner units in to help keep the room tidy, and maybe brighten the place up by having pot plants or flowers on the units.
Wiring
One of the main problems in the meeting room – as in any part of your building – is the wiring. When people bring their laptops into the meeting, they'll need somewhere to plug it in without having wires trailing across the floor and presenting a trip hazard. If this is going to be a problem, get meeting room tables with integrated plug points, making it easy for people to plug in their devices easily, tidily and safely.
Large spaces
If your company is fortunate enough to have a large meeting room, then you'll be spoilt for choice as to how to furnish the room depending on what you use it for. If it's solely a space you use for large meetings, a central table surrounded by chairs is probably the best format. However, if it's likely that the room will be used in different ways, then instead of one large central table, use a number of smaller tables that can be pushed together centrally or separated to provide more spaces for smaller groups to work together.
Comfort is key
If you want everyone to concentrate on the topic in hand rather than on how uncomfortable they are, then ergonomic chairs are a must. There are many designs and colours to choose from, so you can be as traditional or creative as you like with them. For smaller rooms, lighter-coloured furniture in one colour will help make the room look bigger. For larger rooms, let your imagination fly – chairs in different coloured upholstery will make the room look cheerful and friendly. Or you could invest in bigger, even more comfortable, chairs to really impress people. You want to create a space that staff will be happy to be in, so they work better as a result.
Cupboard love
What you need to remember is that meetings must be productive, which requires surroundings that people feel comfortable in. What you don't want is for your staff to feel that they're in a kind of ad hoc storage space, so keep the room as tidy as possible. If you absolutely need to store things in the meeting room, invest in storage furniture that will help you keep your staff's attention on the meeting and not on the mess! Maybe you could store the office biscuits and coffee machine here and provide a touch of happiness at every meeting and a sugar fix too!
Interested in the range of Meeting Room Furniture we offer? Contact our friendly team to find out more.
https://quillsinteriors.co.uk/wp-content/uploads/2020/01/QUILLS-INTERIORS-BLOG-1.png
315
560
Justine Perry
https://quillsinteriors.co.uk/wp-content/uploads/2019/10/Quills-White-Reverse-300-wide-300x74.png
Justine Perry
2020-01-02 12:16:33
2020-01-02 14:02:15
How to maximise space in your meeting room