How to keep your educational setting Covid-safe – the Quills guide to getting it right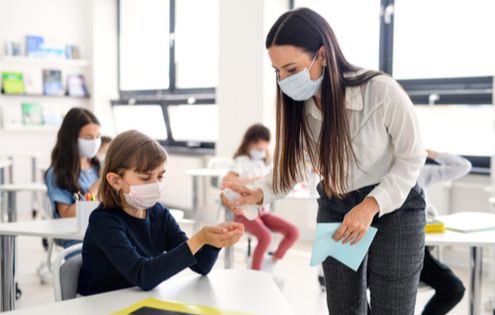 Whilst the COVID-19 pandemic will come to an end, the virus will sadly probably never leave. None of us want to go through the uncertainties and lockdowns of 2020 again, so taking steps to keep your educational setting hygienic and COVID-safe is always going to be a priority.
In addition to the fact that it spreads quickly, one of the main problems with SARS-CoV-2 – the virus that caused COVID-19 – is that many cases can be asymptomatic, which means carriers can be completely unaware that they are infected.
There are a variety of precautionary measures you can take that will help create a COVID-safe environment for your staff and students and help prevent the spread of a number of germs and viruses. It is no coincidence that during the pandemic, when we were all so scrupulous about social distancing and hand washing and sanitising, that the number of colds people caught dropped dramatically, along with cases of flu.
There are a number – of products and services available that will enable you to keep your school, academy, college or university COVID-secure.
Air purifiers
Ventilation and air quality inside the classroom are extremely important. The air we breathe indoors can be up to five times more polluted than the air outside, which is why a public space such as the classroom is such a breeding ground for bacteria, viruses, dust and allergens. Opening the windows will provide adequate ventilation, but it will merely disperse the microbes. An air purifier will clean the air of these particles, trapping them and killing 99.97% of harmful germs, increasing the air quality for everyone, including those with asthma and allergies.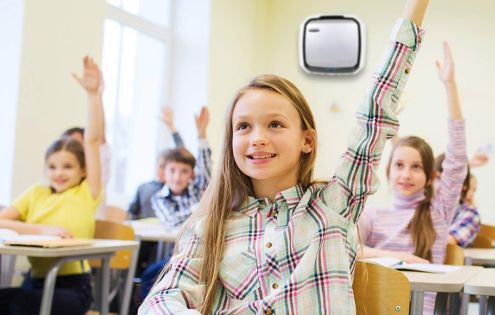 Purified air has been proven to help improve mental tasks such as concentration and recall, as well as reducing illness-related absenteeism.
We recommend AeraMax Pro Air Purifiers such as the AeraMax Professional. All AeraMax models are wall-mountable, unobtrusive and aesthetically pleasing, so you can provide worry-free air purification wherever it's needed most. AeraMax Professional air purifier units are extremely reliable and built with 24/7/365 operation in mind. They're constructed with superior components, high-grade filters and reinforced housings.
The AeraMax Professional has a four-stage HEPA filtration process that uses proven methods to effectively clean the air. Firstly, the pre-filter captures large particles and contaminants. Activated Carbon filtration absorbs odours and volatile organic compounds from the air. The filter then captures and traps 99.97% of airborne particles while an antimicrobial treatment effectively reduces the development of bacteria and fungi on the filter. Finally, an ioniser improves the capture efficiency of the particulate filter.
Antimicrobial surface protection
Protecting surfaces that are frequently touched has never been more important and that's why more and more schools and workplace environments are having antimicrobial surface protection applied. This long-term hygiene solution provides protection against viruses and bacteria and can play a key role in your school or university's cleaning strategy.
The clear coating provides proven antiviral activity against SARS-CoV-2 and TGEV Coronavirus (test certificates available on request). It works 24/7 and lasts for one year on high-traffic areas and typically for the lifetime of other surfaces.
The clear coating can be applied to many items including handles, doors, tables, chairs, tech screens, playground equipment and play areas, gym equipment, canteen equipment, and fabric too. The advantage of antimicrobial products and coatings is that you will need to use fewer harsh chemicals to keep your educational setting hygienic and safe. As the antimicrobial properties kill harmful viruses and bacteria, your cleaners will not need to pay special attention to any areas or use harsh chemicals. Cleaning time will therefore be kept to a minimum, with the peace of mind that you have surfaces with long-term hygiene protection.
The fast-drying, clear, antimicrobial surface coating is applied by our trained technicians in full personal protective equipment. Independent tests have confirmed that once the coating is applied, the spread of bacteria reduces by 99.9% within 24 hours, and the TGEV Coronavirus (as the model virus for SARS-CoV-2) reduces by 99.8% in eight hours.
Labels are clearly displayed on items that have been protected and Quills has a 12-month guarantee on all works it carries out. Book a FREE onsite test that will show the current bacteria levels, which we'll redo after your surfaces have been treated – you'll be amazed by the results!
Antibacterial push plates and door handle covers
Our range of Purehold antibacterial door handle covers and push plates offer additional protection that will help to reduce the spread of viruses and bacteria. They are suitable for pull, push and lever-type handles, are extremely easy to install (less than 10 minutes), and their silver ion technology provides protection for up to 12 months. An indicator light will appear when the Purehold handle cover requires changing. The covers are recyclable too.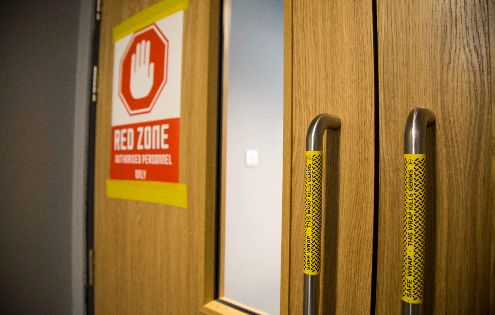 Safe Wraps
We also have a range of adhesive antimicrobial Safe Pads and Safe Wraps that are 99.87% effective against the Coronavirus and 99.99% effective against bacteria. You can easily attach them to door handles, bannisters and push plates, and their black and yellow designs clearly show your students that you are taking precautions.
Protective screens
Clear acrylic and glass protective screens are now a familiar part of everyday life and can seamlessly integrate into any part of your educational settings such as reception areas, canteens, in between classroom desks and office desks. They provide a protective barrier between people, with minimal disruption to communication. They are durable, portable, and can be cleaned with antimicrobial/antifungal and bleach-based products.
Signage
Signage is a great way of reminding students to follow health and safety and hygiene advice to help protect them from Covid-19 as well as other harmful viruses and bacteria.
Hand sanitiser
Keeping hands clean is an easy way to prevent the spread of the coronavirus. We recommend that schools provide an 'active' hand sanitiser which is safe for children because it's alcohol-free and 95% water based, but provides the same protection as an alcohol-based sanitiser, killing 99.9% of bacteria and viruses. An additional benefit is that, because it leaves a biofilm layer on the skin, it works for eight hours a day, whereas alcohol-based sanitisers evaporate and stop working as soon as they've been applied. This means students need to use six times less product (based on the average adult sanitising their hands eight times a day).
Hygienic classroom chairs
We supply an antibacterial range of classroom chairs – the chair is capable of killing >99.9% of bacteria including MRSA, E.coli and fungal growth. The chairs are ergonomically designed to encourage good posture, and they come in a range of colours and sizes.
New classroom furniture
New classroom furniture will help keep your classrooms more hygienic. Dirt and germs will accumulate in the scuffs and scratches that are inevitable on chairs and desks used by so many people, making it much harder to keep them clean and COVID-safe. The smooth surfaces of new furniture are easier to keep clean and hygienic. You also might like to consider wipe-clean furniture for reception areas and office chairs.
Repair don't replace
Repairing damaged furniture, bathroom ceramics and UPVC around windows and doors is a much cheaper and more environmentally friendly way of keeping your educational setting as COVID-safe as possible. Our experts can repair cracks, dents, scuffs and holes to make desks, chairs, sinks and toilets as good as new with a flawless finish that will help you keep everything hygienically clean, as well as extend the life of your furniture and fixtures.
Contact us to find out more about how we can help you keep your educational setting COVID-safe.
https://quillsinteriors.co.uk/wp-content/uploads/2021/06/educational-setting-covid-safe.jpg
315
495
Justine Perry
https://quillsinteriors.co.uk/wp-content/uploads/2022/01/Quills-Interiors-White-OUTLINED-250-website.png
Justine Perry
2021-06-28 11:31:51
2021-06-28 14:52:51
How to keep your educational setting Covid-safe – the Quills guide to getting it right