Glass Partitions for your employees when returning to work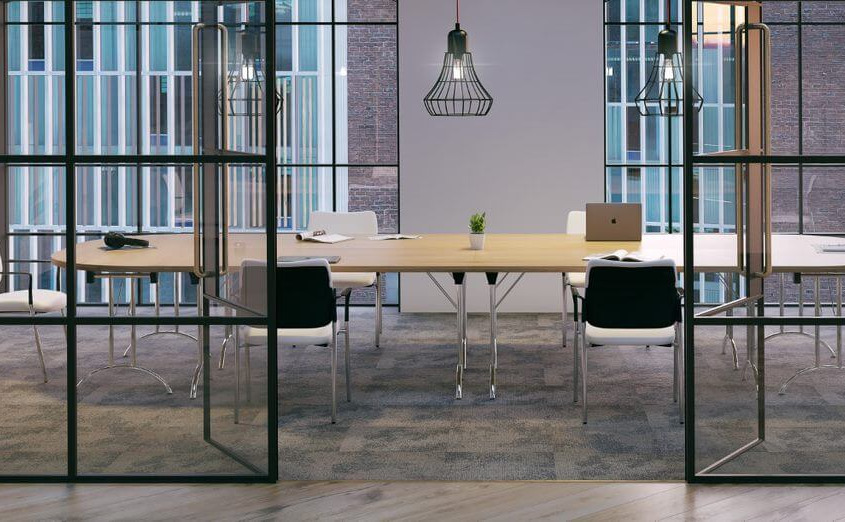 We now have a proposed date for when life can go back to 'normal' – 21st June (correct at time of writing). As long as there are no unexpected problems, it looks like we'll finally be able to get back into the office to start exploring the new ways of remote and hybrid working that we've been talking about for the past year. One result of hybrid working is that, without everyone needing a desk everyday, you can now get creative with your office space and change the interior design to reflect its new use. And this is likely to include the addition of glass partitions to create private areas and meeting rooms.
Our high quality glass partitions come in many forms to suit your brand, your style of work and the amount of privacy you require. No longer just a few glass panels put together, they come in all shapes, sizes and designs as well as the incorporation of technology.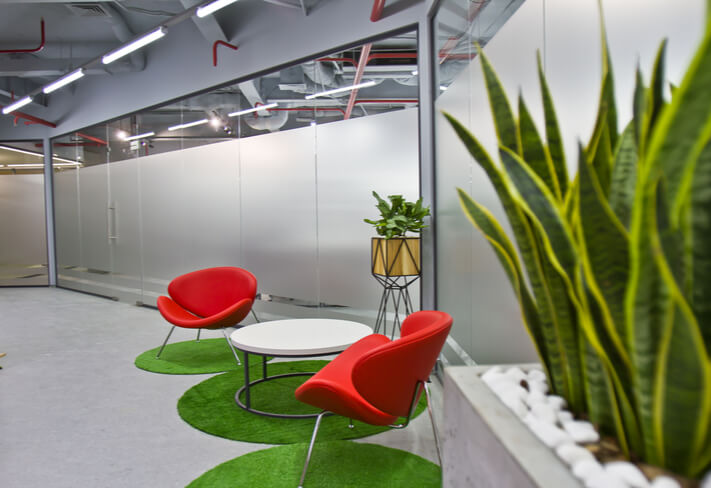 Now you see me…
A new development that's gaining in popularity is switchable glass, which gives you the ability to make your panels transparent or opaque at the touch of a button. Say goodbye to dusty blinds, making your meeting private is now easy and instantaneous. Known as smart glass or switchable glass, it can even be used as an HD projection screen, making even more use of space. And, of course, impressing the socks off clients and visitors!
Switchable glass works thanks to its use of layers of tiny liquid crystal molecules. When switched off, the crystal molecules are unaligned and block the light, which is what makes the glass look opaque. When a current is passed through them, the molecules align, allowing the light to penetrate through the glass and it becomes transparent. Clever stuff.
Getting around to it
Another recent development is curved glass panels, which will help you to create a meeting room with a real wow factor, whether you want an impressive circular meeting space in the middle of the office, or to make better use of an awkward corner space.
Demountable partitions
If you don't want to commit to a permanent arrangement, or you know there'll be other changes to make in the near future, demountable glass partitions will help you change your interior designs more effortlessly. Each partition is surrounded by a frame that makes it easy to install and remove without causing structural damage, meaning you can be flexible about dividing up your office space as your company evolves.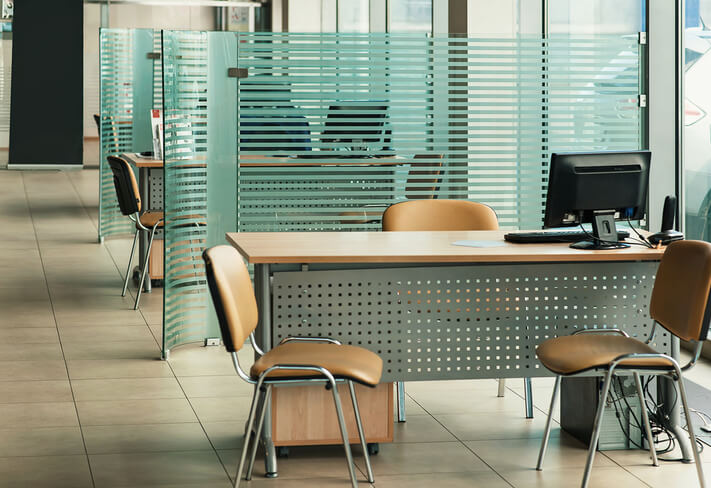 Moveable glass partitions
If you sometimes need a large space and other times need two smaller spaces, moveable glass partitions will simply slide in or out of the way. Great for large halls and offices alike, you can create extra space for team meetings or workshops by moving the partitions out of the way. Or close them up for smaller meeting spaces or quiet spaces. Moveable partitions have good acoustics and sound proofing, giving you extra privacy and enabling two meetings to run simultaneously without disturbing each other.
Manifestations in the office
Nothing to do with anything spooky, a manifestation is a sticker that shows people the glass is there. For health and safety reasons, it's a legal requirement to use them on glass partitions, but apart from that, the design is up to you. Many companies use frosted manifestations of their logos, elegantly branding the panels at the same time as making them obvious. Others get creative with shapes and patterns, others use them as privacy screens. However large or small, they will always look great!
Fire rated panels
Glass panels can also play a vital role in safety in the event of a fire. Fire rated partitions can act as a barrier to fire, heat and toxic gases, giving up to two hours' protection depending on the system. While building regulations don't require glass partitions to be fire rated, the extra level of protection they can provide will give you extra peace of mind.
https://quillsinteriors.co.uk/wp-content/uploads/2021/03/meeting-room-5.jpg
315
560
Justine Perry
https://quillsinteriors.co.uk/wp-content/uploads/2022/01/Quills-Interiors-White-OUTLINED-250-website.png
Justine Perry
2021-03-05 11:13:10
2021-04-07 12:15:24
Glass Partitions for your employees when returning to work