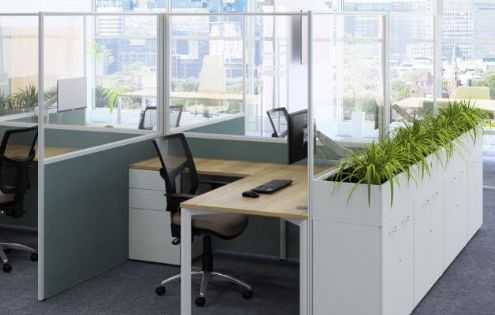 Storage for the modern workplace and hybrid working
Thanks to technological advances, many office systems now operate entirely in the cloud, allowing offices to go paperless (or at least very nearly paperless) which means valuable office space no longer needs to be taken up with bulky servers and filing cabinets.
Without the need to store so much, and with the growing body of evidence showing how good surroundings can affect your mood and increase productivity, modern office design has been revolutionised. However, there will always be a need for storage in the workplace and in the home office, and today's storage solutions combine a clever use of space and efficient storage options, with designs that will enhance the look and feel of your office.
Here are some of our storage solutions that are perfect for the modern workplace and home office
Planter cabinets
The term 'biophilia' describes our need to connect with the natural world, and biophilic office design is becoming more and more popular in order to bring the outside in and help people work better. In the old days, people simply plonked pot plants on top of cabinets, which often looked horrible as well as leaving marks. With storage planters, you'll have beautiful storage units that have been specifically designed to hold a lot of plants without ruining the furniture, enabling you to provide a sizable area of plants that can help clean the air and keep your staff happy.
Room dividers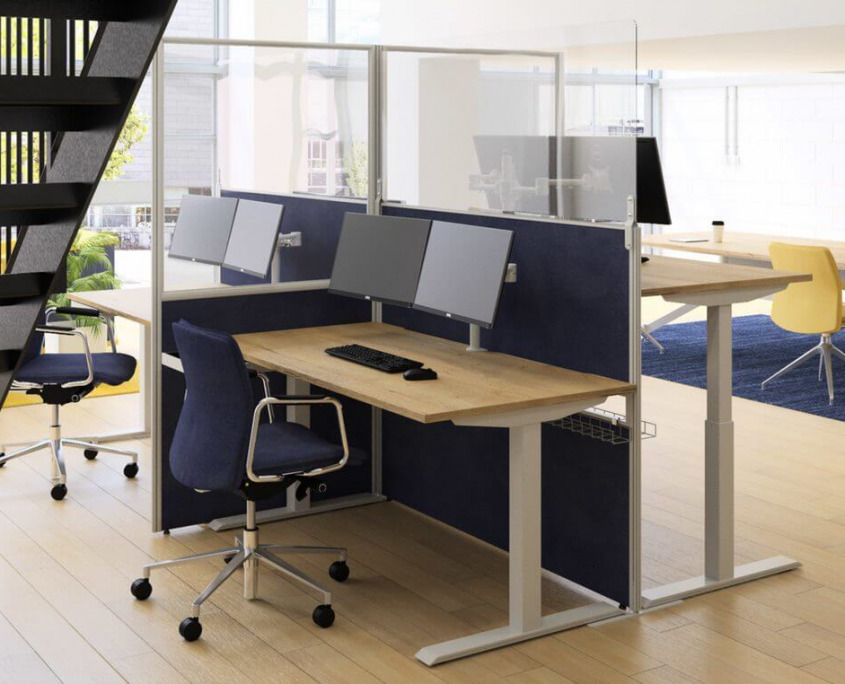 Storage units can also be incorporated into room partitions alongside open shelving that will let in plenty of natural daylight. With HiBox room dividers, you can build any combination of open shelving and closed storage to enable you to create areas and zones that maximise your use of the space.
Fitted storage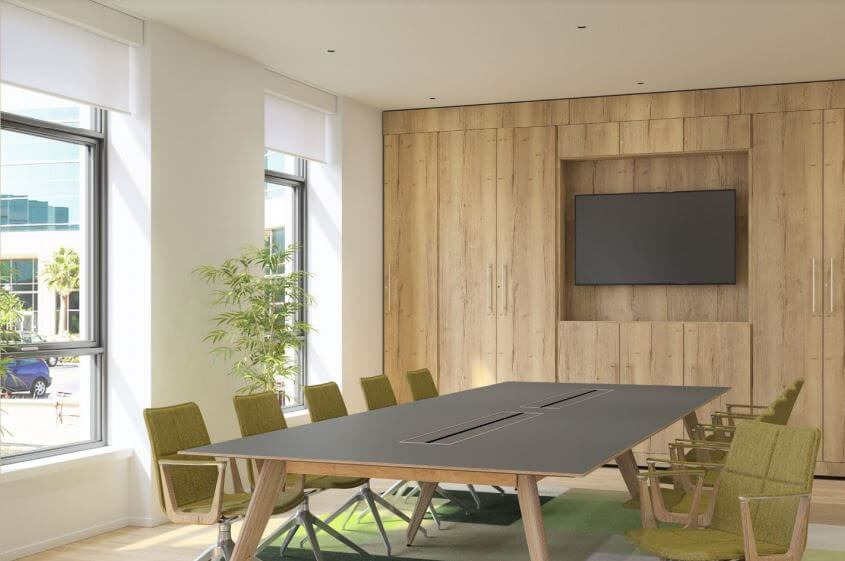 Floor to ceiling fitted storage can provide a surprising amount of storage space. If you don't need to cover the entire wall or want to break up the space, HiStore Lite offers the option of incorporating seating and display areas.
Tambour units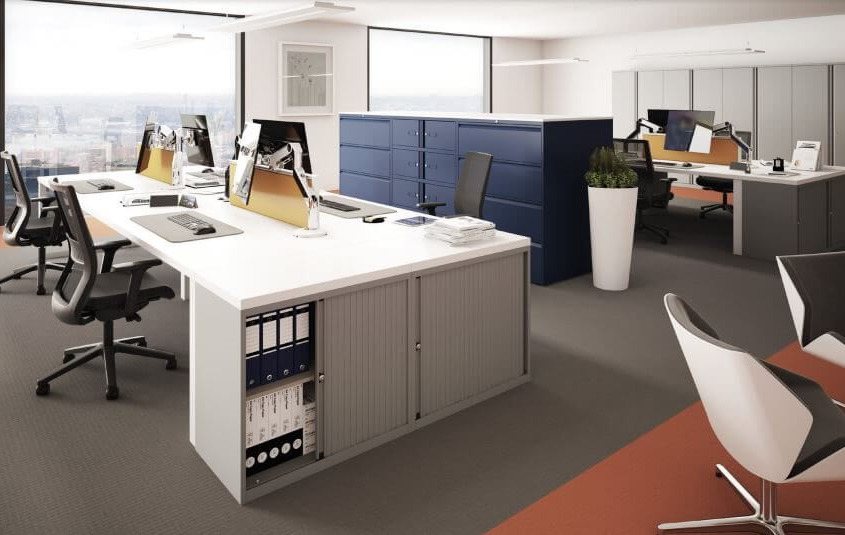 Tambour is a storage solution that provides cupboard space for shelving, files and drawers in any combination. You buy the carcass and the internal fittings that suit you best and construct the best storage units for you. Tambour units come in a wide range of attractive colours and finishes, and they can also be topped off with made-to-measure planters.
Cube storage lockers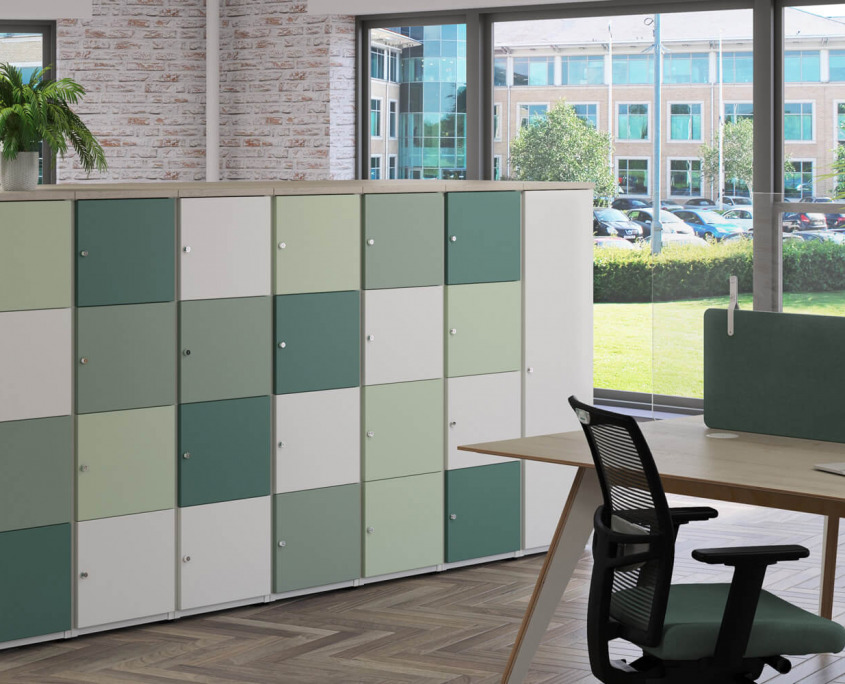 Cube storage lockers offer a place for hot-desking staff members to safely store their work and belongings at the end of the day. Our HiBox range is available in lots of different colours which can be used to make multicoloured units and inject some fun into the office.
Mobile storage
Portability is becoming increasingly important now that many offices are making the change to hot-desking working practices, and there are storage solutions that are perfect for your office if your company has a policy of hot desking.
Having somewhere secure for staff to store confidential papers as well as personal belongings when they're not in the office can be really important. Our Hotbox Origin is a portable metal box that can be stored out of the way at night, and when someone's working in the office, it can be clamped onto a desk for easy access to its contents.
The Hotbox 2 is smaller in dimension and made from recyclable polypropylene. It has enough space to store stationery, notebooks and even a laptop. Its soft fabric cover can be branded to raise awareness of your company when your staff are on the move.
Pedestal storage seating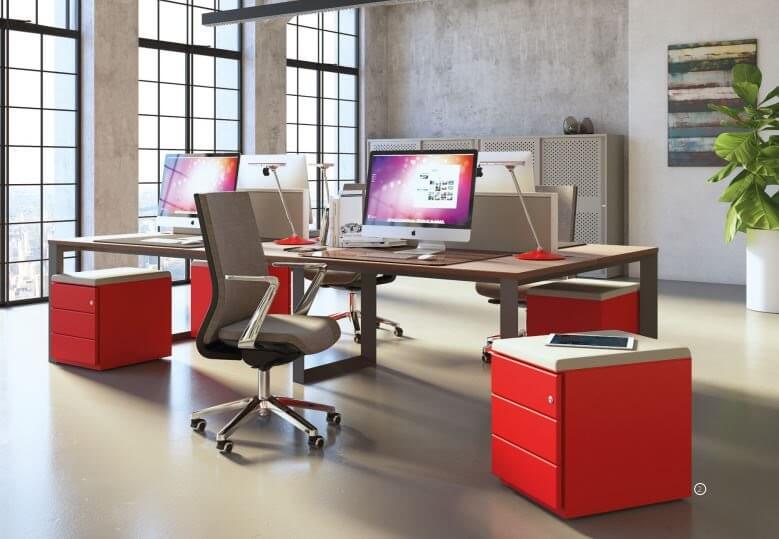 Smaller pedestal storage units in our X-Range can also have a double life as a stool, with the addition of a made-to-measure cushion – perfect for home offices where you might not have enough dedicated space for a spare chair.
Bookcases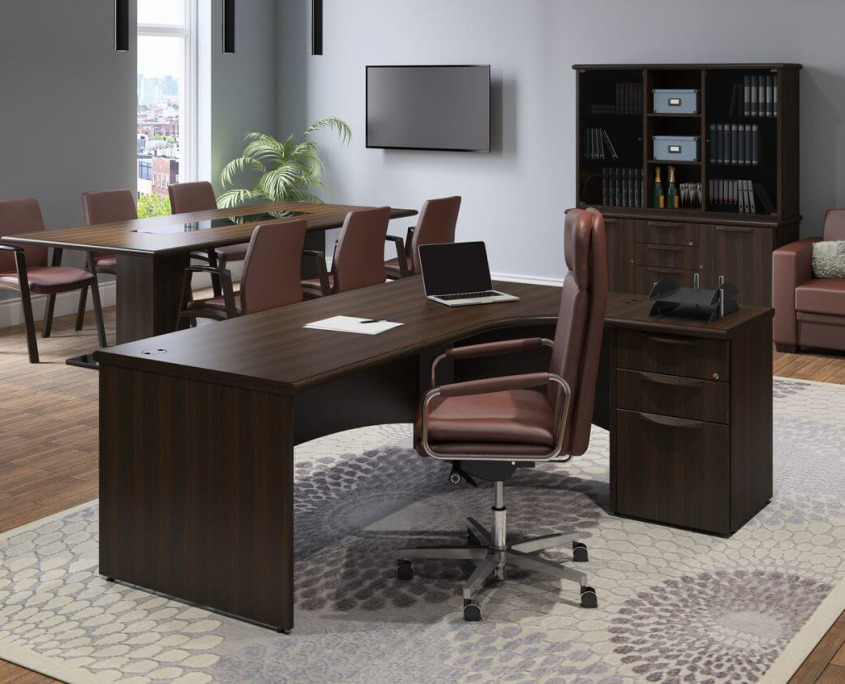 Bookcases provide good-looking storage for books (obviously!) as well as ornamental objects and business awards. The HiBox range of storage units looks great in boardrooms or as part of any storage solution.
So, if you are striving for that modern, calm, decluttered working environment, whether at home or in the office, the latest range of products will fit the bill.
https://quillsinteriors.co.uk/wp-content/uploads/2021/08/Storage-Office-Lifestyle-1.jpeg
315
495
Justine Perry
https://quillsinteriors.co.uk/wp-content/uploads/2022/01/Quills-Interiors-White-OUTLINED-250-website.png
Justine Perry
2021-08-09 14:45:34
2021-09-13 11:42:38
Storage for the modern workplace and hybrid working