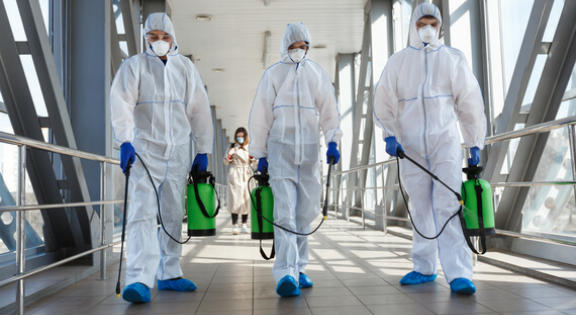 Keeping your workplace hygienically clean has never been more important than now when we find ourselves in uncertain times. The global spread of Coronavirus and its devastating mortality rate is unprecedented in most of our lifetimes. As we are advised to wash our hands more frequently, carry hand sanitiser and wear a mask when we venture out, new government guidelines have also outlined that businesses across the UK will need to rethink their hygiene controls and incorporate stringent cleaning schedules as they prepare to re-open for business. Social distancing will have to be in place and handwashing or hand sanitising facilities must be available at entry and exit points to protect employees and visitors.
A good, regular cleaning schedule in commercial premises is a must and demonstrates that the employer has taken reasonable care to protect its employees in line with Health and Safety laws. However, it's possible that even with regular cleaning, some areas are missed or not cleaned thoroughly, leaving them prone to harbouring harmful bacteria. By taking some important extra measures, it's possible to mitigate the spread of germs and airborne diseases to ensure a safe working environment for all.
Deep cleaning carried out by professionals at a time to suit you
With current government regulations in place for everyone to work from home if possible and most retail outlets, gyms and restaurants being closed, many business premises are sitting empty or only have a skeleton staff onsite for security reasons. So there's no better time than the present to arrange for a commercial deep clean for your workplace. Suitable for all premises such as offices, schools, gyms, commercial kitchens, restaurants and care homes, the deep clean service is carried out by cleaning professionals who are health and safety trained and DBS checked. The service can take place during the day or night to suit your business and can include a full and thorough sanitisation of the area which provides peace of mind that you have done everything you can to safeguard the health and wellbeing of your employees, residents and visitors.  
Keeping the germs away
An Antibacterial lacquer coating can be applied to many hard surfaces including wood, plastic and stainless steel.  It provides effective treatment to desks, tables, worktops, chair frames, handles and doors to ensure that germs and bacteria are kept at bay as much as possible. The clear lacquer is touch dry within an hour of application and has been proven to kill 99% of bacteria such as E.Coli, MRSA and Salmonella. 
Doorways to cleanliness
A recent report from the US showed that traces of Coronavirus were found on the Diamond Princess cruise ship more than two weeks after the passengers were finally allowed to disembark. We also know that it is possible to catch Coronavirus by touching infected surfaces and then touching our mouth, nose or eyes. So it stands to reason that so-called "high touch" surfaces such as door handles and door push plates are potential breeding grounds for harmful bacteria.
Luckily, they can be protected with hygienic door handle products. Advanced silver ion technology is used on the coating on the antibacterial door handle covers and door plates which kills 99.9% of bacteria and prevents it from reforming. Another option is to install gel dispenser door handles which give a measured amount of sanitising gel to the user as the handle is touched. Both products are recommended for high risk areas such as toilets, care homes, hospitals, GP surgeries and manufacturing sites and will help to reduce the spread of bacteria and germs.
https://quillsinteriors.co.uk/wp-content/uploads/2020/04/covid-19-deepcleaning-1.jpg
315
576
Justine Perry
https://quillsinteriors.co.uk/wp-content/uploads/2019/10/Quills-White-Reverse-300-wide-300x74.png
Justine Perry
2020-04-09 08:53:57
2020-05-15 14:10:34
How to get a handle on hygiene